RTO 9 has undergone a comprehensive assessment and review process to achieve Sustainable Tourism Bronze Certification.
The mandatory requirements included the signing of a formal letter of commitment, the formation of a destination sustainability committee, a destination evaluation based on globally-recognized criteria, which included 117 questions across four categories, evidence submission, and verification for each question noted as present within the destination, and the development of a Sustainability Action Plan.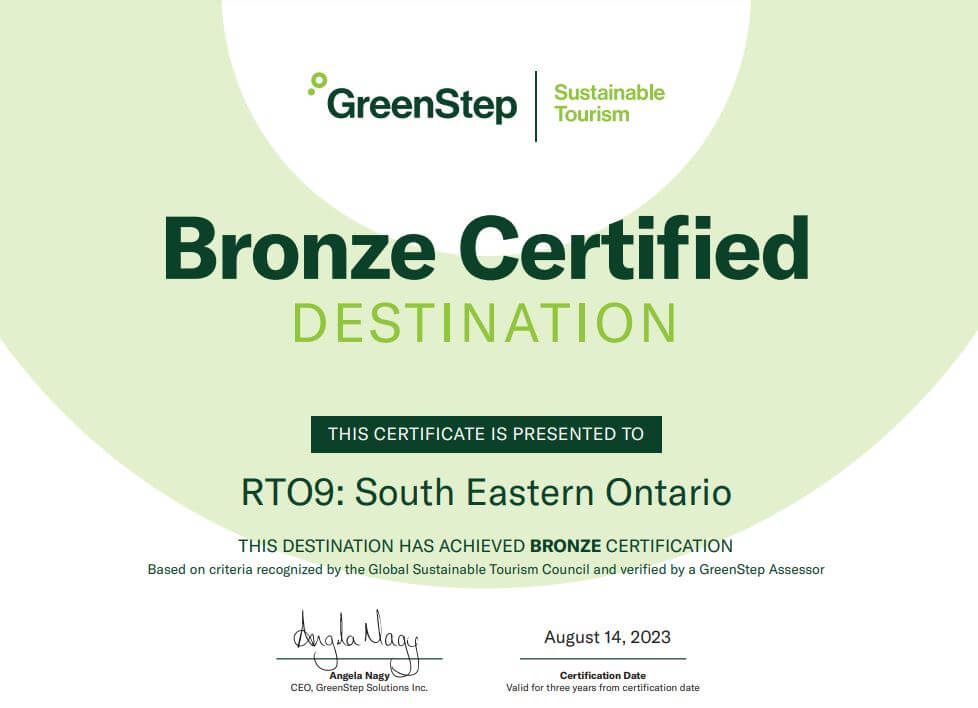 Following the assessment, we received a final report that recognized where we were doing well and also highlighted areas of opportunity for improvement. We have incorporated this information into our sustainability action plan for continued success on our sustainability journey. RTO 9 will be reassessed every three years to maintain our certification and be held accountable to our action plan.
RTO 9 would also like to thank the Tourism Industry Association of Ontario (TIAO) for initiating the process and for their support in the audit.
About GreenStep Solutions Inc.
GreenStep Solutions has provided green business consulting, certifications, and software for more than 1,200 BC Businesses since 2008. GreenStep helps businesses and organizations identify opportunities to go green while at the same time, saving money and improving their green credibility, helping to meet the growing consumer demand for more responsible business. GreenStep also offers the Green Tourism Canada program and ecobase Certified. For more information, visit www.greenstep.ca.
About RTO 9
RTO 9
is a regional tourism organization established in 2010 that is funded by the Ontario Ministry of Tourism Culture and Sport. RTO 9 actively promotes tourism for the southeastern Ontario region and works to support and grow the tourism industry through marketing, product development, investment attraction, and workforce development initiatives.