South Eastern Ontario is Ready to Welcome Visitors This Summer
New consumer research outlines high demand for culinary and adventure-based trips
Kingston, ON – (June 22, 2021) – South Eastern Ontario is open for tourism and ready to welcome visitors this summer. Interest in regional destinations is forecast to be a main driver of vacation travel this summer and South Eastern Ontario is inviting visitors to the area for safe and fun experiences for all ages.
RTO 9 (The Regional Tourism Organization of South Eastern Ontario) recently invested in comprehensive consumer brand perception and travel intention research conducted by Twenty31 Consulting to provide tourism businesses and destination marketing organizations with insight into who will be travelling, what experiences visitors will be seeking and what marketing channels they will use to help plan their trips.
Extended stays in demand
The research suggests that demand in travel to South Eastern Ontario is high, with two in five Ontario and Quebec consumers interested in travelling to the region this summer.
"We anticipate that once restrictions are lifted, tourism will resume quickly to our region," said Bonnie Ruddock, executive director of RTO 9. "There is pent-up demand to visit friends and family and to get out of our own houses and neighbourhoods. We are encouraging visitors to seek out new and unique experiences in South Eastern Ontario beyond what they've done before — and to consider staying an extra night or two. A longer stay in our region will have a meaningful impact on recovery for our tourism operators."
Appealing to young travellers
Twenty31 findings indicate that South Eastern Ontario will attract frequent travellers and younger couples this year, with frequent travellers in Ontario, millennials and those under 45 most likely to visit the region.
The couples market is also the most promising as nearly half of those considering the destination say they will travel with a spouse or partner. Additionally, solo travellers scored surprisingly high at 15 per cent, pointing to the desire to seek escape from routine, and focus on wellness and relaxation.
"We are encouraging visitors to plan multiple trips to our region this year and next — we have so much to offer, and every season brings its own unique experiences to enjoy," continues Ruddock. "We know that many travellers will be booking multiple getaways and our operators can fulfill many types of trips: family, wellness and health, culture and history."
Not surprisingly, the survey also indicates that interest in the most active experiences is strongly linked with age – over half of millennial respondents say they are interested in cycling (55 per cent) and adrenaline activities (56 per cent); while Gen Xers are most interested in art, architecture and wildlife viewing.
A growing food and drink scene
The research indicates that the food and drink scene in South Eastern Ontario has the broadest appeal to consumers with wineries, craft breweries, restaurants, bakeries, local producers and farmers markets topping the list. Nearly half of the respondents said they were very interested in food and drink, followed by history and wildlife.
"The culinary experiences in South Eastern Ontario continue to grow and evolve," said Ruddock. "Whether it's a farmers market, craft brewery or a sophisticated dining experience under the stars, we are building our own unique food and drink story."
Activities in South Eastern Ontario in Demand by Ontario and Quebec Travellers, 2021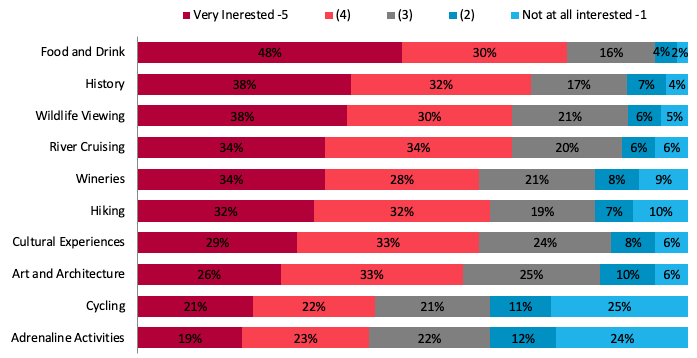 A glimpse at what to do in South Eastern Ontario this summer:
Eat and drink in the region and experience a real farm-to-table scene. The local-food movement is in full swing with everything from organic produce, eggs and bison farms; maple syrup, honey and lavender producers; pure dairy for artisanal cheeses; excellent cidery apples, barley for distinctive microbreweries; and wineries galore.
Spending time on or in the water here is one of the most unique and exhilarating experiences for which the region is so well known. From cruising the 1000 Islands on a small ship sightseeing tour with a European-style Le Boat houseboat to paddling along the St. Lawrence Seaway by kayak, recreational and avid seafarers will find something to enjoy. For those looking to explore the depths of the region, Brockville, Bay of Quinte and Cornwall boast world-class fishing and some of the best freshwater scuba diving with a thermocline and shipwrecks to explore.
Look for places that are off the beaten path – while everyone longs to see the best-known attractions or visit the busiest beaches, why not go beyond the bustle and explore the relatively unknown. The region offers everything from a prehistoric playground amidst life-sized dinosaurs at Prehistoric World, to hand-painted military figurines at Doran Bay Model Ship Museum. Look to the county or region's tourism websites for a little help locating the area's hidden gems.
Shop and support local makers and retailers. Stepping into one of the region's eclectic shops, visitors should be prepared to find something delightful. From specialty boutiques to an antiquer's paradise, and from shopping centres to small-town treasures, South Eastern Ontario is the perfect place for a little retail therapy.
Visit Attractions catered to history buffs, animal lovers, mystery seekers or city explorers. From The Aquatarium, an interactive science and education museum in Brockville; or an informative boat tour aboard City Cruises (formerly Gananoque Boat Line) unveiling the lost ships of the 1000 Islands; to Kingston's famous Haunted Walks, this year offering small group bubble ghost tours sure to spook the spirits of Fort Henry, the region's diverse range of attractions are the ideal small-town adventure.
Bike through the rolling countryside with trails for every level of rider. Thousands of miles of country roads and dedicated bike paths make exploration expansive and easy. Try the off-road Cataraqui Trail for an experience that threads silently through nature's best. The Waterfront Trail offers 90 km of uninterrupted cycling along a scenic route on the shore of the St. Lawrence River.
Golf at some of the best courses – not just in Ontario, but in all of Canada. From the Black Bear Ridge golf course in Belleville to Smuggler's Glen at Glen House Resort in Lansdowne, South Eastern Ontario has over a dozen spectacular courses.
Made up of nine counties stretching from the Bay of Quinte on the western edge to the counties of Stormont, Dundas & Glengarry along the Quebec border and running along both sides of the 401 highway, South Eastern Ontario offers a quick and easy road trip for visitors looking to vacation in the safety of their own backyard.
For more tips on how visitors can go the extra mile while travelling, view South Eastern Ontario's guide to smart travel here.
For more information about experiences available in South Eastern Ontario, visit southeasternontario.ca.
STUDY DETAILS
*This report summarizes the results of a market research study conducted by Twenty31 Consulting on behalf of the RTO 9 Regional Tourism Organization.
Conducted online in February/March 2021
Representative sample of 1,531 of adult travel consumers in Ontario and Quebec
Questionnaire designed by Twenty31 in collaboration with RTO 9, fielded in English and French
Travellers defined as those who either: had travelled at least 40km for an overnight leisure trip staying in paid accommodation over the past year and/or were likely to take an overnight leisure trip staying in paid accommodation in the next 12 months
Sample quotas were set by age and gender, and by region according to population size to ensure an accurate representation of the target markets.
Results are representative of the Ontario and Quebec online adult traveller population and are considered accurate within +/- 3 percentage points, 19 times out of 20. The results presented here are subject to sampling tolerances.
– 30 –
About RTO 9
RTO 9 is a regional tourism organization established in 2010 that is funded by the Ontario Ministry of Heritage, Sport, Tourism, and Culture Industries. RTO 9 actively promotes tourism for the South Eastern Ontario region and works to support and grow the tourism industry through marketing, product development, investment attraction, and workforce development initiatives. The regions of South Eastern Ontario are 1000 Islands Gananoque, Bay of Quinte, Brockville, Cornwall and Stormont, Dundas & Glengarry Counties, Frontenac County, Kingston, Lennox and Addington, Prince Edward County and the 1000 Islands Rideau Canal Waterways.
About Twenty31 Consulting
Twenty31 Consulting is a research and innovation-based management consultancy working with senior leaders of travel and tourism organizations to define and build sustainable, competitive advantage. Twenty31 are active members of the Travel Industry Association of Canada and the Pacific Asia Travel Association. Twenty31 are a Canadian-registered company, headquartered in Vancouver, with a team of partners and associates located in Vancouver, Toronto, London, Cape Town, New York and Berlin.
Media Contact
To arrange an interview with Bonnie Ruddock, executive director of Region 9 (South Eastern Ontario) Regional Tourism Organization, or arrange high-res images please contact:
Erin O'Driscoll, Beattie Tartan : erin.driscoll@beattiegroup.com Direct: 416.319.8296